Mercuri International has once again been selected one of the Top 20 Sales Training Companies globally by TrainingIndustry.com. The list is part of Training Industry's mission to continually monitor the market for the best and most innovative providers of training services and technologies.
Selection to the 2019 Training Industry Top 20™ Sales Training Companies List was based on the following criteria:
Thought leadership and influence on the sales training sector
Breadth and quality of sales training topics and competencies
Company size and growth potential
Industry recognition and innovation
Strength of clients and geographic reach
The sales training market is seeing innovative approaches to enhancing the learner experience through newer technologies and interactive content," said Ken Taylor, president of Training Industry, Inc. "The Top 20 Sales Training Companies are leading the way in creating blended experiences by adding online libraries, assessments, reinforcement tools and job aids to their virtual and instructor-led training offerings. These blended programs are contributing to better learner retention and, ultimately, higher performance of sales teams."
"The companies on this year's Sales Training Top 20 list are leaders in the sales training sector," said Danielle Draewell, market research analyst at Training Industry, Inc. "The recently launched Digital Learning Center from Mercuri International Group provides customized and integrated digital learning and brings together traditional and online learning in alignment with best practices."
"We are very happy to once more be awarded for all the impactful work we do with clients world-wide", said Frank Herbertz, President & CEO, Mercuri International.
---
About Training Industry, Inc.
Training Industry (https://trainingindustry.com) presents news, articles, webinars and research reports focused on supporting the corporate training leader and offers complementary referrals to training professionals seeking to source products or services at https://trainingindustry.com/rfp.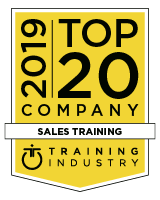 Chcete se dozvědět více?
KONTAKTUJTE NÁS
Email: mercuri@mercuri.cz
Telefon: +420 284 688 651
Scott Rutherford, Director of Marketing,
Training Industry, Inc.
Email: srutherford@trainingindustry.com
Telephone: +1 (919) 653 4998