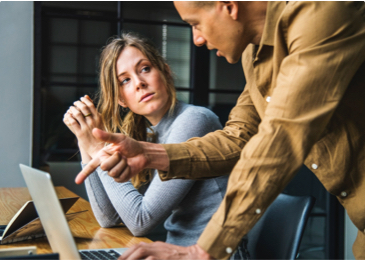 Search for the better lead magnet
Here's a pop quiz:
You are CMO of a company looking to up the momentum of its leads and sales closures. Content Marketing (CM) is the way to go, it's decided. You are presented with these roll-out options:
Webinars
White papers
Branded blogs
Conference/workshop
Roundtable chat
Now, what is your pick?
If you went with Webinars, congratulations! White papers and Branded blogs are also not too much off the mark.
A Kellogg Insight article of Feb 2, 2018 by Susie Allen (How Businesses Can Best Use Content Marketing to Generate Leads) cites research by Bobby Calder, Professor of Marketing at the Kellogg School, and Wei-Lin Wang, Edward Malthouse and Ebru Uzunoglu Ebru, all of the Medill School's Spiegel Research Center which found that digital offerings such as webinars, white papers and blogs result in more leads and sales closures than face to face content marketing events.
Calder and his colleagues researched 3-year comparative data shared by a major consulting firm, involving 1203 digital events, 919 in person ones covering close to 50,000 sales opportunities from 784 key accounts touching 1,60,000 buying-entity employees.
The Mercuri View
Customer-centric selling, goes beyond the product, its price, features and benefits. It is about creating value for Customers. And such value straddles across the entire purchase journey.
Content Marketing seeks to offer value even before purchase happens, by freely sharing expertise that can help the Customer make informed choices. As the research team puts it "With content marketing, you're not so much trying to communicate value as to create value beyond the product," Content Marketing can be made even more valuable when it is delivered in ways that optimize time and cost for the Customer. This is where digitally delivered Content Marketing beats in-person events as a preferred option for disseminating content.
Digital content conserves time invested by stakeholders within the Customer organisation. Small wonder that buying organisations are appreciative of content over digital media in preference to face to face content events From the seller's perspective, digital content does not involve expenses on holding events to reach out to the target audience. In effect, this significantly brings down the cost of sales for the seller besides creating huge savings in pre-sales time and efforts. Given that digitally delivered Content Marketing is a win-win for all sides, the findings of the research are not so surprising after all. Sales, ultimately, is not just about targeting prospects and achieving closures. It is also about nurturing relationships that deliver high value to Customers and create the ground for selling more in future. That applies to Content Marketing as well.
"The researchers gathered information on which employees attended the in-person events as well as on the employees and accounts that accessed the service provider's digital materials" says the Kellogg Insight. The research results turned up a surprise.
Engagement with Digital CM led to more sales leads and closures while Face to Face CM events didn't seem to influence either leads or completed sales.
What explains CM's growing popularity?
Calder and team believe that among important reasons for CM's rising popularity graph are:
In-person events take away much more employee time than Digital CM, making it feel more "like a burden than a benefit"
The need to leave one's work for several hours, travel-associated hassles in attending events and distractions at the event, all combine to considerably erode the value of face to face initiatives
Digitally delivered CM, on the other hand, adds value without excessive demands on the Customer's time
Target CM across all levels to make it succeed
What does it take to make a success of CM? One more key insight from Calder-team's research was this:
Targeting CM at junior and mid-level account employees and not just executives, heightened CM's impact. This is because, while executives contributed most to increasing sales leads, all employees, regardless of level, pushed up leads when they were engaged with digital CM.
Engaging higher levels with CM may improve completed sales. But opinions of junior and lower level employees influence those at higher levels. Moreover, the juniors will rise up the hierarchy in future and hence represent a valuable mindshare for the years ahead. Targeting the whole hierarchy can seed the success of a CM initiative.
Final clincher: CM may be the elusive panacea for healing Sales – Marketing conflict
As CM helps generate leads, it addresses the standard cribs of the traditional rivals – Sales and Marketing. The Salesforce is happy that Marketing is finally adding real business value and Marketing benefits from sales insights that can go into crafting more compelling and valuable content to share with Customers. This can be potentially therapeutic to the Sales – Marketing relationship.
CM must become a major way of doing Marketing
Sums up Calder: Marketers should focus on developing a strong portfolio of online content offerings, a task to be viewed as "not just as collateral support activity, but a major way of doing Marketing".
That's when Content Marketing can fulfill its true potential.
Mercuri Insight
When you deal with an existing Customer, you can draw on the bank of confidence and positive bias you have built with him.
That's a luxury which isn't there with potential Customers who are addressed while doing Content Marketing.
Failing to see this difference between making a sale and creating conditions for future sales, is at the root of many failures to win over new Customers.
Content Marketing is about sharing what it takes, to be seen as a persona worth considering for a purchase.
To this effect, smart Content Marketing engages not just the C Level decision makers, but also the mid and junior level influencers.
You can read the Kellogg Insight on How Businesses Can Best Use Content Marketing to Generate Leads by Susie Allen based on research by Bobby Calder, Professor of Marketing at the Kellogg School, and Wei-Lin Wang, Edward Malthouse and Ebru Uzunoglu Ebru, all of the Medill School's Spiegel Research Center (Feb 2, 2018) here